ProgressSoft Receives Dual Honors at Global Payments Innovation Awards 2023
Singapore, August 24, 2023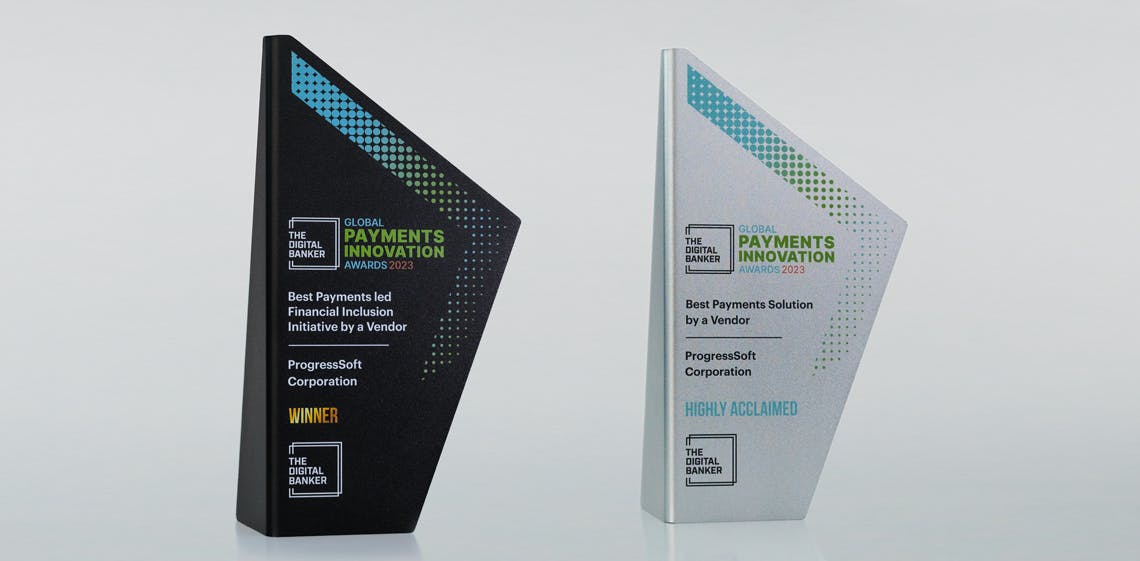 In a momentous commemoration of outstanding achievements within the financial sector, ProgressSoft has attained two remarkable victories at the Global Payments Innovation Awards 2023 owing to its Payments Hub and Mobile Payments Platforms.
The Global Payments Innovation Awards, known for recognizing industry leaders' exceptional contributions, have highlighted ProgressSoft's unparalleled expertise and commitment to shaping the future of payments as winner of 'Best Payments Led Financial Inclusion Initiative by a Vendor' and highly acclaimed 'Best Payments Solution by a Vendor'.
ProgressSoft's commitment to financial inclusion was recognized with the "Best Payments Led Financial Inclusion Initiative by a Vendor" award, owing to the transformational impact of its Mobile Payments Platform implemented at Dinarak, a renowned payment solutions provider in Jordan.
Dinarak has ushered in a new era of financial transactions, offering seamless and secure mobile payment functionalities that empower individuals and businesses alike. It caters to both banked and unbanked users, providing a wide array of financial and non-financial services that have significantly enhanced payment experiences for over 400,000 users in Jordan. The success of Dinarak exemplifies ProgressSoft's dedication to creating inclusive, accessible, and technologically advanced financial solutions that uplift communities and drive economic growth.
In another momentous win, ProgressSoft's renowned Payments Hub Platform has once again proven its excellence by receiving the esteemed title of highly acclaimed "Best Payments Solution by a Vendor." The cutting-edge platform has had a profound impact on financial institutions worldwide, empowering their transaction processing capabilities, scaling their operations, and facilitating migration to ISO 20022, all with minimal to zero changes on back-end systems.
One of the most notable achievements stemming from the adoption of ProgressSoft's Payments Hub Platform is the remarkable Straight-Through Processing (STP) rate improvement of 70-80%. This dramatic increase in STP rates has significantly reduced the need for manual intervention, thereby optimizing process efficiency to unprecedented levels.
"This recognition is a testament to the hard work of our team and the unwavering commitment of our partners," noted Rawan Soudah, ProgressSoft's Director of Product Management, "it fuels our determination to keep pushing boundaries and continuously raise the bar. As we move forward, we remain committed to shaping the future of payments."
ProgressSoft is immensely proud to receive these prestigious awards and remains committed to setting new benchmarks for performance and efficiency within the financial industry.